Austria Duvaz is more than 4,700 meters high in the Morococha district, Yauli province, in the department of Junín; The geographical location of the mine is privileged and strategic since 3 hours from the city of Lima, at kilometer 140 of the Central Highway, access to the facilities of the site; It has water resources, availability of electricity and all the necessary services for mining operations.
The mining district of Morococha and adjacent, is known worldwide for its favorable geological characteristics for the location of rich deposits. It has a long history of extractive operations by important mining companies that contribute to the economic and social development of the region and surround the Mining Company Austria Duvaz, which are listed below: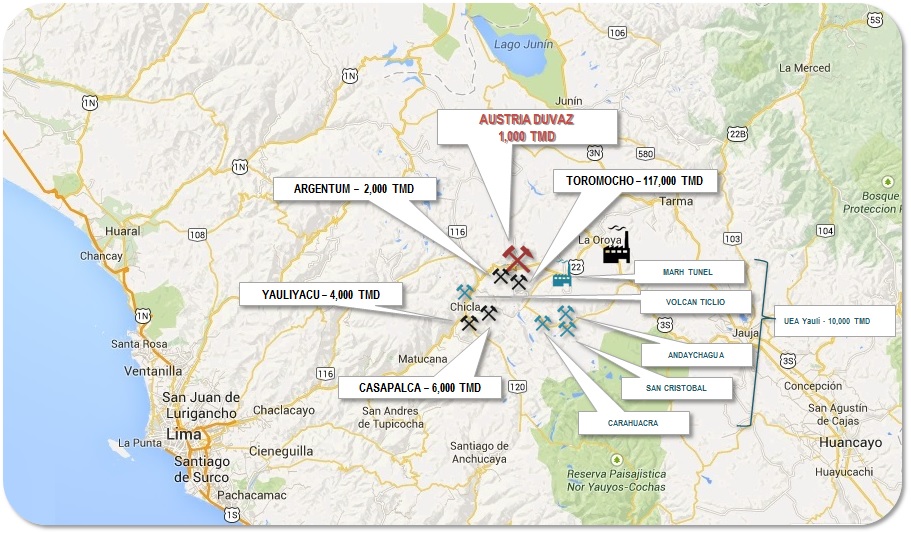 Yauliyacu - Glencore located in the district of Chicla, province of Huarochirí, region of Lima; Hydrothermal deposit of the filonean type, has important reserves of mineral disseminated in the boxes of the main veins and has a production of 4,000 tpd; The Yauliyacu mine is a producer of zinc, lead, silver and minor amounts of copper. Mineralogy consists of sphalerite, galena, tetrahedrite and chalcopyrite, as ore minerals of greater abundance.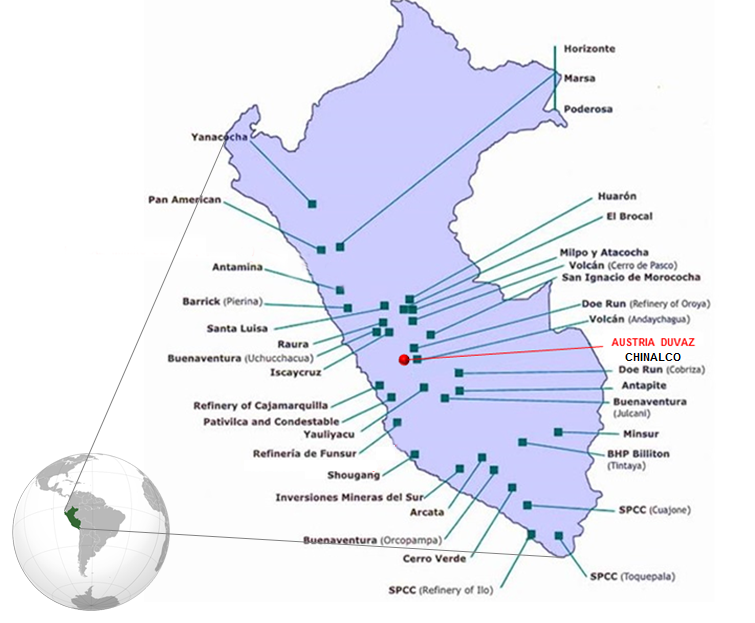 Toromocho - Minera Chinalco Perú S.A. The porphyry-type deposit has a production of 117,000 TPD and contains reserves of 1.526 million tons of ore with average copper grade of 0.48%, molybdenum 0.019% and silver 6.88 grams per ton.
Minera Argentum - Pan American Silver Peru S.A.C. It is located in the province of Yauli, Department of Junín; Hydrothermal deposit of the filonean type with polymetallic mineralization in epi-mesothermal veins of silver, lead, copper and zinc. It also houses replacement structures or mantles in limestones. Production is 2,000 tpd.
UEA Yauli - Volcan Compañía Minera S.A.A. It is located in the province of Yauli, Department of Junín. The unit is made up of underground mines and an open pit, San Cristóbal, Andaychagua, Ticlio, Carahuacra, North Carahuacra; The production is 10,000 tpd and the ore is treated in concentrating plants of 11,350 tpd capacity with laws of 4.76% Zn, 0.73% Pb, 0.15% Cu and 3.72 oz Ag / TM.